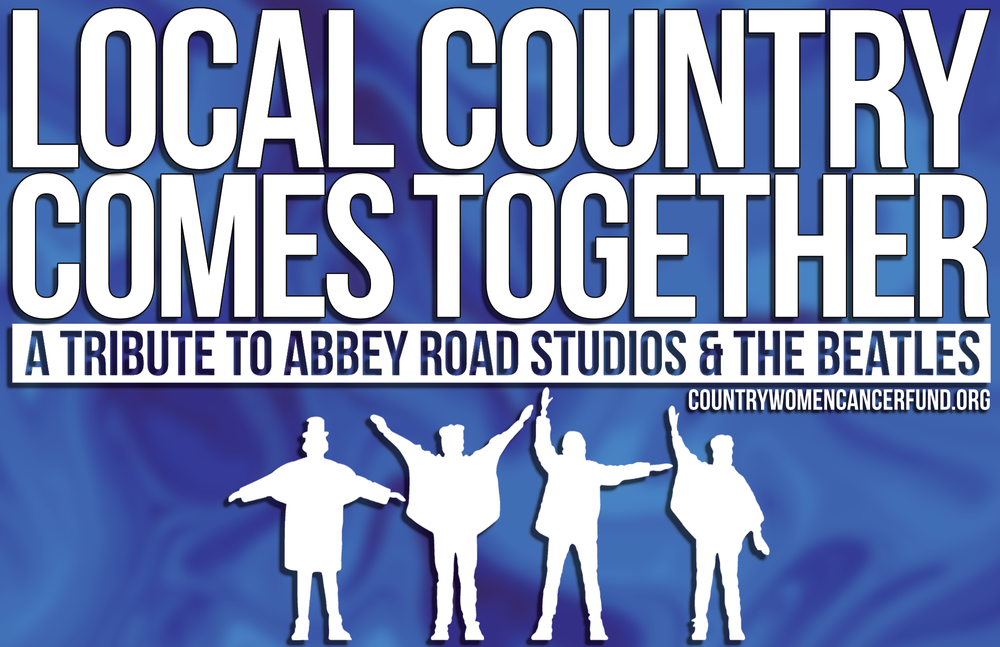 LOCAL COUNTRY COMES TOGETHER: A Tribute to Abbey Road Studios & The Beatles tickets are NOW available for our premiere livestream on Thursday April 7th, 2022. When you purchase the LIVESTREAM you will also have access to watch it at other times after the premiere on April 7th. The show can be purchased by clicking the BUY NOW link below. Tickets can be purchased alone or bundled with a Limited Edition T-SHIRT or HOODIE!
100% of all LIVESTREAM ticket sales and 100% of all merchandise bundles benefits Dana-Farber Cancer Institute.
NOTE: This program is being produced with volunteer participation by all of our artists.  
THE STORY:
When the Beatles landed on American soil February 7th. 1964 (57 years ago), the country was grieving the loss of President Kennedy, a time of tremendous optimism turned upside down in an instant. The Beatles and their music would help guide us through a decade of turmoil, civil rights movements, and wars and would helped provide a voice, optimism, and at times brutal honesty, to a younger generation. Ringo said it best when he adopted the phrase "Peace & Love".  Now fast forward to 2021, no doubt. we've just experienced our own rough patch with the Covid pandemic. Most of you may agree, it's been dark and dreary.. even chaos at time... Last year local artists came together to help create  LOCAL COUNTRY COMES TOGETHER to raise money for Dana-Farber Cancer Institute during the height of the pandemic. These are some pretty amazing folks we are talking about. This new concert film and livestream is designed in the spirit of our first film but this time we look back on history and recognize the contribution of the Beatles not for who they were but for what they did to change minds and promote love. We also recognize legendary Abbey Road Studios in London, the recording studio where just about all of the Beatles music was made with only a few exceptions. It seems we are emerging from another pretty dark time, and it's a beautiful thing to spread a little light especially to those who will inevitably continue to struggle with a cancer diagnosis post pandemic. It's a small thing, we are humble artists, but every bit of light matters.